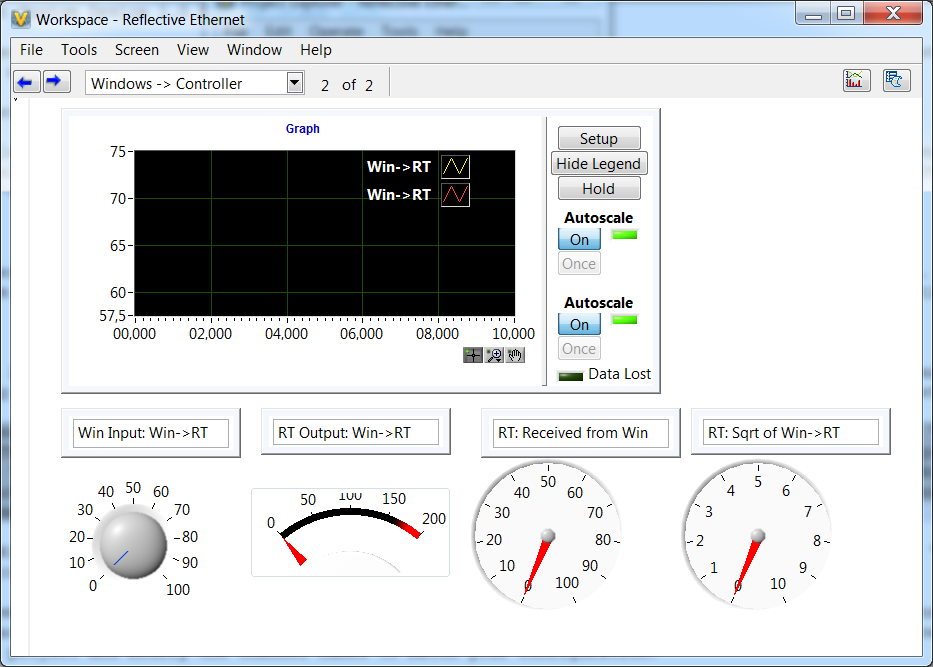 Veristand Custom Device for target to target software defined direct communication bypassing the VeriStand engine. The Reflective Ethernet Custom Device enables VeriStand to do asynchronous single-point IO with one or more Windows, VxWorks and PharLap controllers on an Ethernet network.
Overview
A custom device is installed on multiple targets and using TCP connections sends data back and forth between the Inputs and Outputs on the targets. Traditional communication between targets in VeriStand is done via the VeriStand Engine running on a host computer. To achieve target to target communication, extra hardware for reflective memory is the standard solution. The Reflective Ethernet Custom Device enables software defined direct communication between targets, thus loosing the dependency on the host computer for communication while not needing any extra hardware.
Install the Custom Device on the targets that are to communicate with each other and configure Input and Output channels. The Output of one target will be the Input of another. These channels to other channels on your targets in VeriStand.
The Reflective Ethernet Custom Device is installed together with an example project to show how the custom device is configured and to get you started. Use this example together with its description as a guide to get your first configuration up and running on your own targets. Go here for a description of the example project.
Key performance highlights
Enables target to target direct communication.
No extra hardware needed.
Provides communication independent of the VeriStand engine.
Pricing
The VeriStand Reflective Ethernet Custom Device is sold by DVel for SEK 18 000. Contact order@dvel.se.
It can also be bought from National Instruments or downloaded to be used for free for non-commercial use through the NI LabVIEW Tools Network.