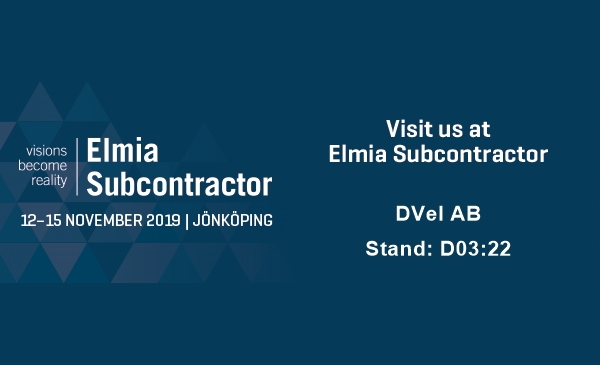 Stop by our stand at Elmia Subcontractor for a cup of coffee!
Elmia Subcontractor is Northern Europe's leading trade show for the manufacturing industry, with nearly 1,200 exhibitors. We will have a stand on the IoT Arena.
We would like to meet you there! Make sure you stop by our stand and book a meeting with us if you want to sit down for a while to rest your legs and get a nice cup of coffee!
DVel AB
Stand D03:22
Elmia Subcontractor
12-15 November 2019
Jönköping
Don't miss our presentation on The IoT Arena stage. It will be presented every day.
"Selecting the right sensors for your IoT application
Do you have ideas that you want to realize, starting or continuing your IoT journey? Where should you start in the jungle of all available sensors? What measurement aspects and other parameters should you take into consideration? We'll give you some points to get started with."
and
Welcome!