I have been investigating  the nRF9160 from Nordic Semiconductor. Nordic Semiconductor is a Norwegian company well known for their microcontroller with 2.4 GHz radio transceiver for Bluetooth such as nRF52840. So what is this nRF91 series about?
New connectivity possibilities for IoT devices
Since some time back we have heard a lot about IoT and on the market we can find many devices connected to the Internet. These devices are connected to the Internet, that's true, but not directly connected. The connection to the Internet are often made through another device. For example, my smart watch is connected to the Internet because it is connected to my mobile phone through Bluetooth, and my phone is connected to the internet, therefore the watch is connected.
The 5G standard, the 5th Generation Mobile Communications, will deploy low power modes such as LTE-M, Long Term Evolution-Machine, and NB-IoT, Narrowband Internet Of Things. These two new standards will allow us to connect directly to the Internet without the help of any other device in between. This opens up a new range of possibilities. Small devices capable of taking measurements with a small sensor and deliver it directly to you through the closest radio station. Or devices that can be operated from anywhere in the world. Or devices that work as actuators so we can deliver an instruction to perform an action.
Nordic nRF91 with RF transceiver embedded for IoT
So back to the nRF9160. It is a new microcontroller that includes the radio for LTE-M and NB-IoT. Depending on which country you are based in, one or both standards are very likely deployed by the time you are reading this text. Sweden has deployed NB-IoT already. At DVel we are updating our knowledge to help develop the devices for the future, to make sure they will get to  the market at the right time and being one of the first companies to help our customers develop products connected to the Internet with 5G.
We tested the microcontroller itself and it works really well and smooth. The work Nordic Semiconductor has done delivering libraries, makes it easy to program an application really quick. We are on the way to test the radio as we are talking, but we are still waiting for NB-IoT SIM cards and then we are looking forward to testing the connectivity.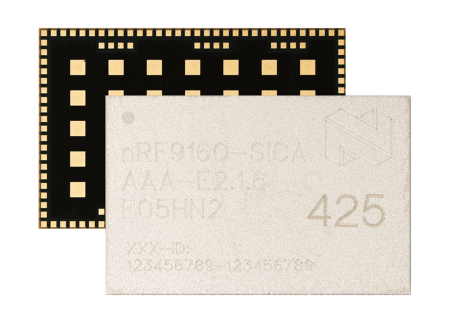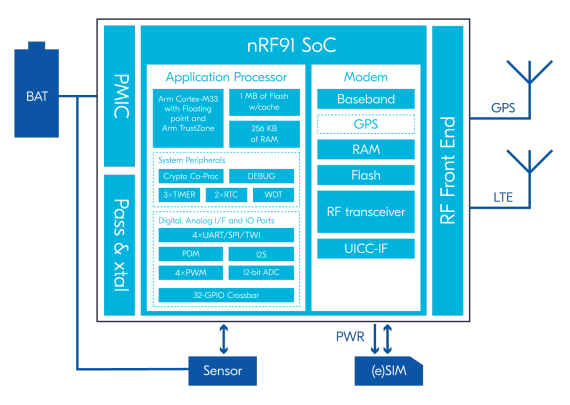 nRF91 SoC Application circuit to the left.
New applications for measurements
We are interested in this technology because it enables new applications for measurements. This technology is very suitable for moving applications and analysing data remotely. Low power consumption, sensor integration and delivering the measurement remotely are keys to some of our customers projects.
GPS and Bluetooth for testing purposes
The board also contains GPS and Bluetooth. Bluetooth is a technology that have been on the market for a long time, but it is a living protocol. We are currently in the version Bluetooth 5.1, which supports longer distances and high data rate while dropping the energy consumption. Also the network, how the devices are interconnected through Bluetooth  has been improved. Some of our customers have a Bluetooth module in their product, that they wish to test. We are looking at using the nRF9160 as part of our test system for this purpose. Evaluating this board shows that it will be a good choice for testing the power transmitted and the functionality of products including Bluetooth.
By Leonardo Padial Torán